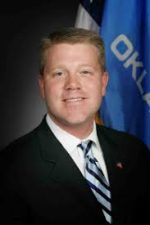 Short Business Description

A native of western Oklahoma, Representative Mike Sanders has dedicated his career to public service. He began working on campaigns at the age of 9 and after making a strong impression on the George W. Bush Campaign, he earned a position at the White House. As Director of Interns, Mike managed over 1,000 interns and put policies and procedures in place that returned The White House Intern program back to prominence.

Mike continued his public service as Deputy Chief of Staff for Rural Development as well as the Senior Advisor to the Chief of Natural Resources Conservation Service for the United States Department of Agriculture (USDA). Mike had the honor of serving on the Council for Small Business for Governor Frank Keating and Lt. Governor Mary Fallin from 1999-2003. Additionally, for Mike's dedicated service to the White House and Nation on September 11, 2001, he was awarded the Distinguished Honor Service Award by the President of the United States, George W. Bush.

Mike was elected to the Oklahoma House of Representatives in 2008 garnering 79% of the vote. He went unopposed in 2010, 2014, and in 2016. In 2012, Mike set an Oklahoma election record gaining 95% of the vote.

In his years in the Legislature, Mike has served as the vice chair of the Human Services Committee, focusing on reforming the Department of Human Services. For his distinguished service on behalf of children and families in Oklahoma, he was honored with the 2013 Outstanding Elected Official Award by the State Interagency Child Abuse Prevention Task Force. He has also served in House leadership under various speakerships and after Sanders was re-elected in 2012, he was elected by his peers of the House Republican Caucus to remain in Leadership as one of the Assistant Majority Whips, a position he has held since his election in 2008. During the fifty-fourth Oklahoma State Legislature, Sanders continues to be a strong voice for Western Oklahomans. He served as the Chairman for the Appropriations Subcommittee on Transportation for over 4 years overseeing the budget Oklahoma Department of Transportation. Sanders' now serves in a Senior Leadership role as House Majority Leader. He continues to serve on the Agriculture & Wildlife, Utilities, Business and Commerce, Energy & Aerospace and Appropriations & Budget Committees.

In addition to being an active member of the Kingfisher County Farm Bureau, Mike's community involvement includes the Knights of Columbus #3113, Kingfisher Elks Lodge, Kingfisher Rotary Club and the National Rifle Association. He is also a lifetime member of the American Council of Young Political Leaders and has served in many leadership positions with the Kingfisher County Republican Party, serving as Chairman from 1999-2001.

Mike graduated from Kingfisher High School in 1993 and from Oklahoma Christian University in 1997 with a degree in History and Pre-Law. While in Washington, D.C., Mike attended Georgetown University to work on his Master's in Government. Mike is married to Nellie Tayloe Sanders, and they live in Kingfisher with their sons, Davis Lee Sanders and Walker Tayloe Sanders.
Long Business Description
Send Message to listing owner