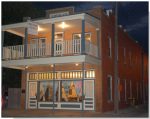 Short Business Description
Long Business Description
The Noble Hotel was built in 1912 as a boarding house. It boasts a unique Watonga history and is one of the six buildings listed in the National Registry of Historic Buildings in the Watonga area. It has been restored with a lot of community support since 2004. The downstairs has been converted into a nice restaurant with two dining areas. The upstairs has a small, private dining area with five unique rooms. Each room is named in honor of a prominent Watonga Citizen. Each room has its own private bath and is furnished with antiques and reproductions furniture and fixtures. Guests will enjoy a home-cooked breakfast included with their stay.
Room #1- The E.O. (Gene) Wheeler Room- This room has a king sized bed with a rolling pin headboard and a claw footed tub.
Room #2- The Dr. Theresa Tyler Room- This room has two double brass beds. It also has a slipper tub.
Room #3- The Clarence Knappenberger Room- This room welcomes you with a king size metal bed and the elegance of a pedestal tub.
Room #4- The Clarence Nash Room- The "voice of Donald Duck" has two twin beds and connects to the Hoberecht Suite.
Room #5- The Byron Wolfe Room- This room is the bridal suite with a 4-poster king size bed. It also has a Jacuzzi-type tub.
Room#6- The E.T. (Ernie) Hoberecht Room- This room has an oriental feel with a king size bed and jacuzzi tub.
Experience the nostalgia and ambiance of dining and staying overnight at the Noble House Bed and Breakfast.
Send Message to listing owner