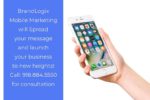 Short Business Description
BrandLogix Mobile Marketing now offers you a way to increase the ROI of your marketing dollars.
In partnering with BrandLogix Mobile Marketing, we provide a complete mobile solution with the delivery of interactive mobile campaigns.

• Instant Results
• Direct Marketing
• Track response
• Improved time relevance
• Low costs
• Intimacy
• Accessibility

BRANDLOGIX Mobile Marketing
P.O. Box 413
Watonga, Ok 73772
(918)884.5550 (c)

BrandLogix can help your business by bundling your advertising investment by sharing your message
to your growing mobile club members. We do this with internal strategic tactics. We will help your business get your digital message to a larger audience.
Each message is personalized by leaving your impression to your club members. We do this through SMS and MMS.
BrandLogix specializes in Digital Marketing and building small business enterprise by enhancing ROI. We offer Website
Optimization, Mobile Marketing, and Social Networking assistance.
Long Business Description
Listen to BrandLogix Mobile Marketing " All Things Small Town Podcast" CLICK   HERE
Information on BrandLogix Mobile Marketing listed Below:
Business Address
241 Norwood Court
Watonga, Ok 73772
73772

Short Business Description

ince 1953, Pioneer Telephone Cooperative has provided Western Oklahomans and businesses with the best communication tools to keep our customers connected with the people, communities and information that matters most.

We strive to live up to our name every day - exploring, developing and PIONEERing the latest technology to keep our community moving forward.

We're local. Pioneer is local, member-owned and operated. We live here and use our services too, so we have to get it right. We believe in investing in more than communication infrastructure. We know people make the real impact in our communities, so our organization and employees proudly support people and organizations that are working to move our local community forward.

We value relationships. We're dedicated to providing excellent customer service and a fair deal. Pioneer offers the latest technology available at competitive prices backed by a committed, local customer service team.

We connect people. Pioneer keeps our customers connected, entertained and protected through our family of services: Wireless, Internet, Digital TV, Security and Home Phones.

We have plans for everyone. Whether you just need to check emails or your entire life connected through your cellphone, we provide plans to meet your needs.

We invest in progress. Pioneer recognizes that infrastructure is the cornerstone of progress, quality of life and the economic well-being of rural Oklahoma, so we are constantly integrating the latest technology into our suite of services while maintaining the reliability of our existing services.

We're technology experts. We know how frustrating new technology can be. That's why our friendly team of technology experts are available to help by phone, email, chat or at 42 locations across our Western Oklahoma service area. We don't outsource our support, which means every billing, service or support question is answered locally.
Long Business Description
Business Address
P.O. Box 539
Kingfisher
73750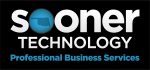 Short Business Description

IT SERVICES



Sooner Technology provides IT services and networking solutions to medical professionals, legal firms, insurance agencies, accounting agencies, city & government entities, oil & gas companies, school districts, institutes of higher learning, and many other industries. We have extensive experience with electronic medical records software and software designed for accounting professionals. No job is too big for our team of professionals.

​

Remote Support

Workstation setup/repair

Server setup/maintenance/repair

Network design & installation

Software installation

Anti-virus protection

Virus/malware removal

Firewall & network security

On-site & off-site data backup

Business email

Internet tech support



more about IT Services

​


WEBSITE & DESIGN SERVICES



Sooner Technology staffs a professional graphic designer/web designer with over 20 years of experience in the design field. Photography, web design, logo design, and marketing plans are just a few things we now offer to strengthen your connection with customers and potential customers. Combining Sooner Technology's IT skills and Graphic Design experience will give your business the edge to get ahead in your market.

​​

Website Design

eCommerce Site Development

Website Management

Onsite/Inhouse Web Training

DNS Setup

Domain Name Management

Social Media Marketing

Search Engine Optimization Services

Logo Design/Corporate Identity

Digital Billboard Design

FAA licensed Drone Pilot for onsite photo and video



more about Website Services
Long Business Description
Business Address
501 E. Franklin Ave. Weatherford, Ok
73096