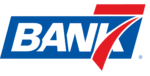 Short Business Description
OUR SERVICES
Personal Banking
• Checking Accounts
• Easy Savings
• Loans
• Certificates of Deposits (CD's)

Business Banking
• Checking Accounts
• Loans

OTHER SERVICES
• ATMs
• Coin Counters
• Safety Deposit Box
• Same Day Debit Cards

WATONGA BRANCH
580.623.8551
115 W. A Street
PO Box 169
Watonga OK 73772

GEARY BRANCH
405.884.2971
133 South Broadway
PO Box 411
Geary OK 73040

BANKING CENTER
405.376.8300
1426 N Mustang Rd
PO Box 830
Mustang OK 73064

GREAT SERVICE WITH NO HIDDEN FEES
We provide our customers with service they can count on and we don't surprise them with additional fees.
CHECKING | SAVINGS LOANS
No matter your need, we have the right solution for you. Personal or Business, Bank7 is a bank you can trust.

IMPORTANT NUMBERS
Lost/Stolen Card:
800.472.3272

Restricted Card:
800.262.2024

Bill Pay Service:
800.877.8021
Business Address
115 West A Street
P.O. Box 169
Watonga, OK
73772

Short Business Description
Farm Credit Associations of Oklahoma began in 1917 after an act of Congress was implemented to ensure farmers would be able to obtain adequate financing for their operations. The associations were designed to directly assist farmers, ranchers, rural home residents and agri-businesses with all types of financing needs.

These associations are member-owned financial cooperatives, and part of the nationwide Farm Credit System. Their customers/members elect a board of directors, who then set policy. As a cooperative, they refund some earnings to members according to their patronage.

They serve all counties in Oklahoma and are active in all the communities in their lending territories. They donate time and money to many youth programs, including FFA and 4-H, in each county. They have been involved in or supported many agricultural events throughout Oklahoma.

They have received special recognition from the local and state FFA organizations, as well as Extension supporters.

Customer service is critical to their success. Not only do they aim to be competitive but also strive to provide the best service to members. They are constantly rated highly by members and work hard every day to earn their business.

They want members and potential members to think of them first when any financial need arises on their farm or ranch. They have a diverse range of financial products including financing everything from farmland to fertilizer, ranches and cattle to equipment, and anything in between. They will work with you to find the best financial package that works best for you.

Contact your local Farm Credit Associations of Oklahoma affiliate today at OKFarmCredit.com and find out how they can help you finance your agricultural operation now and into the future.
Long Business Description
Business Address
1420 N. Clarence Nash Blvd. Watonga, Ok
73772

Short Business Description

About Us
First State Bank Watonga
First State Bank is proud to be locally owned and operated.
At FSB we pride ourselves in being locally owned. We can offer our customers higher quality service with a wide range of products. We make timely decisions locally without the hassle of contacting someone in a remote office. Our work with friends, family and neighbors gives FSB the opportunity to improve our community.

Watonga, Oklahoma: proud home of First State Bank
Approximately 60 miles northwest of Oklahoma City, Watonga has many reasons to become a resident. The industrial, retail, travel and entertainment venues are just a few of the major benefits of citizenship in Watonga. From quality golf courses to antique stores to restaurants, Watonga is the ideal location for anyone looking for a traditional, small town environment. The people are friendly and appreciate you and your business.

FSB takes pride in our community. Sponsoring local schools, sports, organizations and many more we want the best for our residents and children. FSB employees actively serve in leadership positions and as members of organizations throughout the community.

First State Bank is "MAKING A DIFFERENCE THROUGH LOCAL COMMITMENT"
Today there is a bank on every corner offering the same product as the next one. At FSB, we try to be unique. One thing you will NEVER experience at FSB is an automated system answering our phone during banking hours. You will always have a friendly voice directing your call. At FSB we try to maintain the services you want with the conveniences you prefer. Our employees strive to achieve exceptional customer service and satisfaction

Exceptional personal service
Timely information and decisions
Quality products and services
A locally owned bank, worthy of your trust
Typhoon Open Golf Tournament
3rd Saturday in May - Sponsored each year by First State Bank. Call for details.
Long Business Description
Business Address
321 West Main Street
P.O. Box 540
Watonga, OK
73772