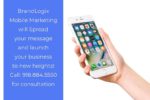 Short Business Description
BrandLogix Mobile Marketing now offers you a way to increase the ROI of your marketing dollars.
In partnering with BrandLogix Mobile Marketing, we provide a complete mobile solution with the delivery of interactive mobile campaigns.

• Instant Results
• Direct Marketing
• Track response
• Improved time relevance
• Low costs
• Intimacy
• Accessibility

BRANDLOGIX Mobile Marketing
P.O. Box 413
Watonga, Ok 73772
(918)884.5550 (c)

BrandLogix can help your business by bundling your advertising investment by sharing your message
to your growing mobile club members. We do this with internal strategic tactics. We will help your business get your digital message to a larger audience.
Each message is personalized by leaving your impression to your club members. We do this through SMS and MMS.
BrandLogix specializes in Digital Marketing and building small business enterprise by enhancing ROI. We offer Website
Optimization, Mobile Marketing, and Social Networking assistance.
Long Business Description
Listen to BrandLogix Mobile Marketing " All Things Small Town Podcast" CLICK   HERE
Information on BrandLogix Mobile Marketing listed Below:
Business Address
241 Norwood Court
Watonga, Ok 73772
73772