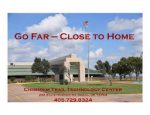 Short Business Description

Technology Center
Manufacturing
Prepares students to do quality welding for a variety of construction and manufacturing jobs using multiple structural welding techniques.

Health Science
This is our largest Career Cluster and it includes the courses: Practical Nurse, Registered Medical Assistant, Nursing Assistant, & more.

Science, Technology, Engineering & Mathematics
This Career Cluster includes PLTW Pre-Engineering, Algebra, Geometry, Trigonometry, & Pre-Calculus.
Human Services
In this Career Cluster, students prepare to become a Cosmetologist, Nail Technician, Esthetician, etc.

Business Management And Administration
This career major prepares students to be an Administrative Assistant, Digital Information Specialist, or a Medical Office Assistant.

Finance
This career major prepares students to solve accounting problems using computerized software and electronic spreadsheets.

Information Technology
This major prepares students to install, configure, and troubleshoot routed and switched networks. Classes also ready students for careers in graphic design for websites, videos and/or publications.

Architecture & Construction
This career major is an introduction to the safety practices, tools & equipment, trade related math, & blueprint reading in the cabinetmaking industry.

View Courses
Transportation, Distribution & Logistics
According to the most recent NATEF standards, students in this major will cover the skills necessary to become an entry-level technician.
Long Business Description
Business Address
283 OK-33, Omega, OK 73764
73764

Short Business Description

The Watonga Public Library has a long and rich history. The library was started in 1906 through the efforts of Mrs. T. B. Ferguson, wife of Oklahoma's 6th Territorial Governor and a small group of concerned women including Mrs. A. W. Sunderland, Mrs. E. E. McCord, Mrs. Isabelle Piper and others and contained about 1,100 books.
Long Business Description
Business Address
301 N Prouty Ave
Watonga, Oklahoma
73772